MEDIA RELEASE – 30 December 2021 – Defending Champions CYCLONE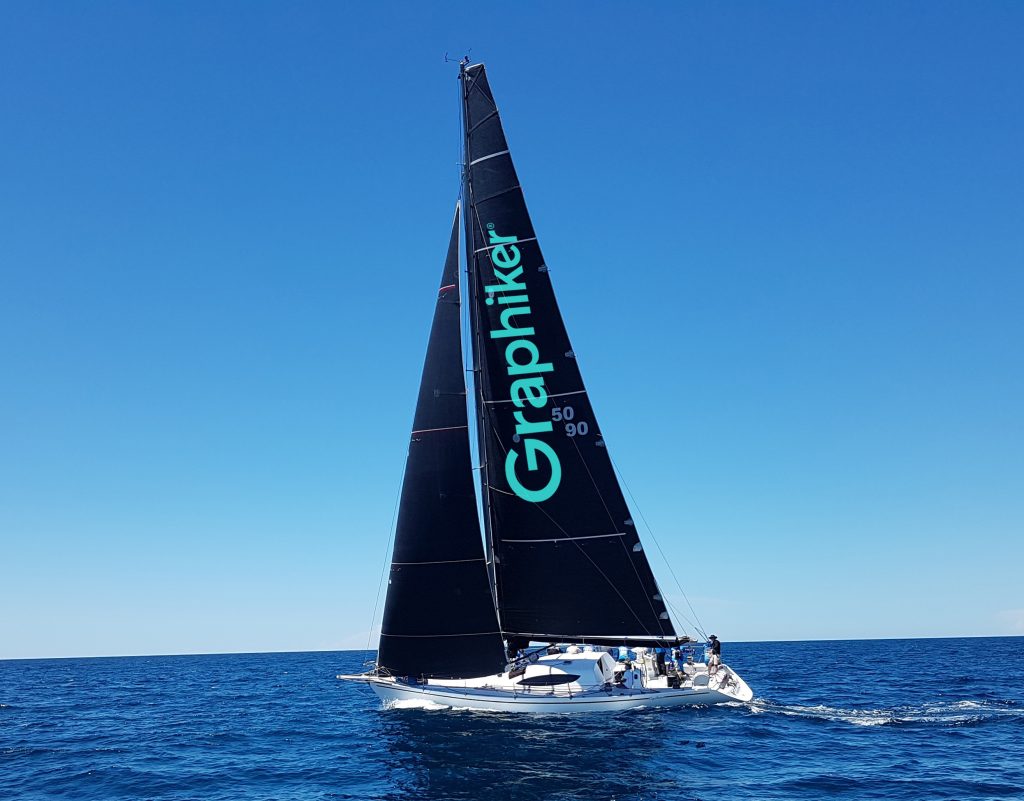 Sail Paradise's defending champ set for another "Cyclone" season
Of all the crews taking part in next week's Qoin Sail Paradise regatta off the Gold Coast, only one is hoping for "cyclone" season.
Skipper David Chadkirk and the crew of veteran 50ft racer, Cyclone, have enjoyed a wave of success in past events and they are keen for that to continue.
The annual Sail Paradise begins on Monday (January 3), launching a spectacular four days of colour and competition as a record field of more than 50 boats races off the Gold Coast. Cyclone will again be among the favourites.
In 2021, the four-time Sydney-Hobart yacht was the overall winner of Sail Paradise by the largest margin ever. She has previously brought home several divisional honours.
Adding to the anticipation for next week is the fact that Cyclone will compete for the first time under the spectacular mainsail of its new sponsor, Gold Coast graphic design company Graphiker On Demand.
Keen sailor and Graphiker co-founder Matt Greacen joined the crew of Cyclone 15 months ago. When the sponsorship opportunity came up, he was quickly on board.
"This will be our first major event under the Graphiker brand. I can't think of a better way to launch our sponsorship than off the Gold Coast in our home regatta," says Matt.
Businessman David Chadkirk bought Cyclone eight years ago and says the Graphiker sponsorship signals an exciting new phase for the much-feted monohull.
"She was a $1m boat when launched on Sydney Harbour in 1989," says David. "That same year she did a full 360-degree rollover in huge seas during her first Sydney-Hobart. To continue sailing was a testament to the Aussie builders and the crew. Cyclone also played a part in the development of the exciting TP52 class, which is the F1 of the yacht racing world.
"Cyclone has such a proud history throughout Australia and overseas and she still has plenty of good racing in her. We've had some great success at Sail Paradise over the years and it's always a thrill to do well at home on the Gold Coast."
DAVID CHADKIRK AND MATT GREACEN ARE AVAILABLE FOR FURTHER COMMENT