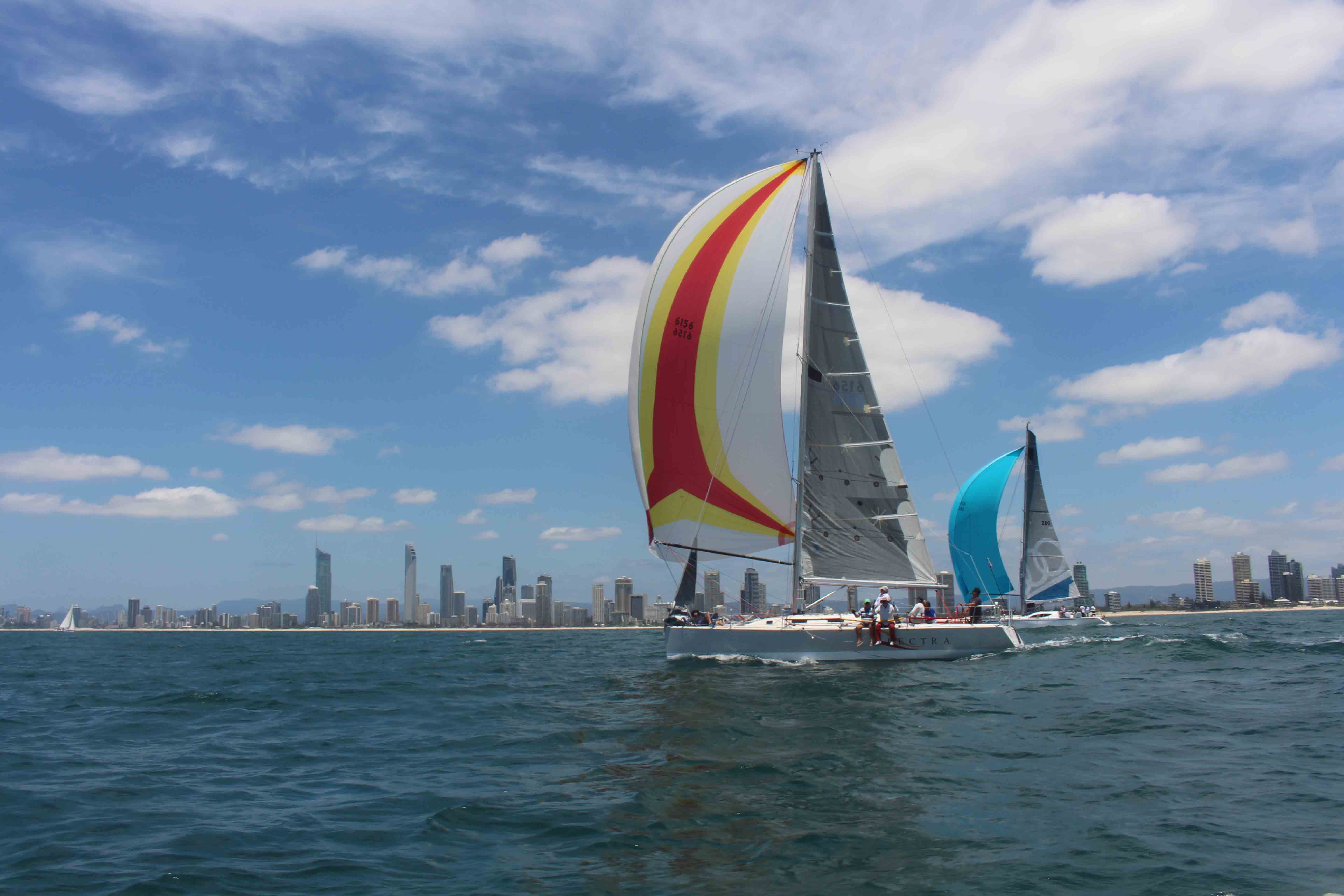 Close call between the leading crew's at the 2017 Bartercard Sail Paradise Regatta
Day four will see for an interesting race between the Performance 1 division with a close point score between leaders Cyclone, skippered by David Chadkirk and Glenn Burrell's Wildflower II. With only one point in the lead, Cyclone will be required to keep up their consistent winning streak to ensure Wildflower II do not take them over the line. Rod West's Painkiller OP is also not far behind, coming in at a close third (3rd). Very close racing is expected for tomorrow, the final day of the 2017 Bartercard Sail Paradise Regatta. "The racing has been exceptional, and the close point score has made for a very interesting regatta. We are really excited to see what the weather conditions bring for us tomorrow and are very hopeful for a first (1st) place," said Glenn.
IRC is also close with point scores, with unfortunate mail sail damage forcing Fred Bestall's Auric's Quest to retire from day three. "We were so pleased with the results over day one and two, although a little less positive for us today. However, myself and the crew will be back in action tomorrow with full intentions to sail at our absolute best, in the hope to win the IRC Division," said Fred. Tristan Hamilton and crew from RQYS on board Electra are currently sitting in first (1st) place IRC after day three.
The volunteers at Southport Yacht Club have been extraordinary over the regatta with a special mention to Bob Kahl, Snooks II and Gary Doornbos, Mahogany volunteering both their time and vessel's as start boats for the regatta, also Craig Thomas our exceptional Volunteer Coordinator. Thank you to everyone who has donated their time and resources to SYC's premier sailing regatta, Bartercard Sail Paradise.
Tomorrow, Thursday 12th January will be the final day as the crews battle out for the championship crown in the 2017 Bartercard Sail Paradise Regatta. Further details can be found on the regatta website: www.sailparadise.com.au
For further information contact Bronwen Hemmings at Southport Yacht Club on (07) 5591 3500 or via Marketing.Manager@southportyachtclub.com.au
www.facebook.com.au/sailparadise
Image Caption:
Glenn Burrell's Wildflower II, currently second (2

nd

) place in Performance Racing Division I
Currently in first (1s) place IRC, Tristan Hamilton's Electra along side David Chadkirk's Cyclone, first (1

st

) place, Performance Racing Division I
Principal Race Officer Denis Thompson on board SYC member and exceptional Volunteer Gary Doornbos's Mahogany.